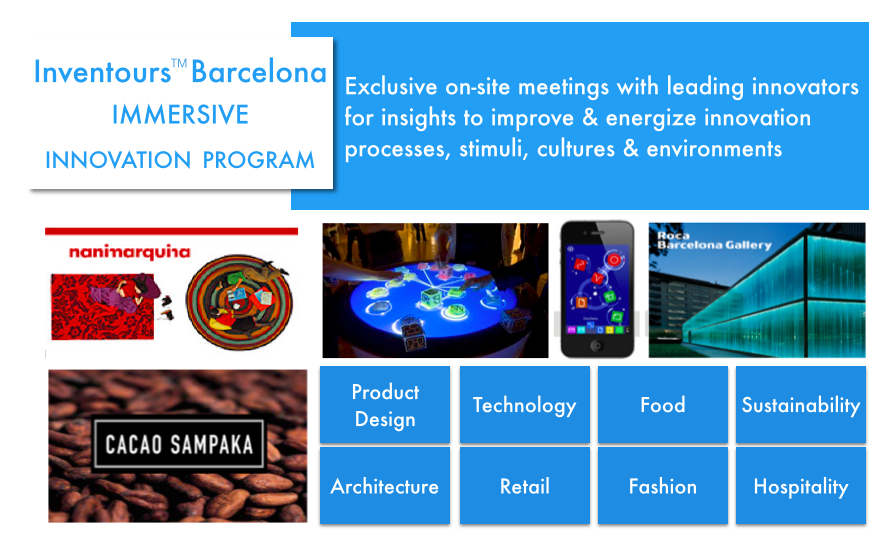 inventours™ is designed to provide Chief Marketing Officers, Chief Innovation Officers,Heads of R&D and Design, VP's of New Business, and Creatives with new insights to improve and refresh their own company's innovation processes, cultures, and techniques.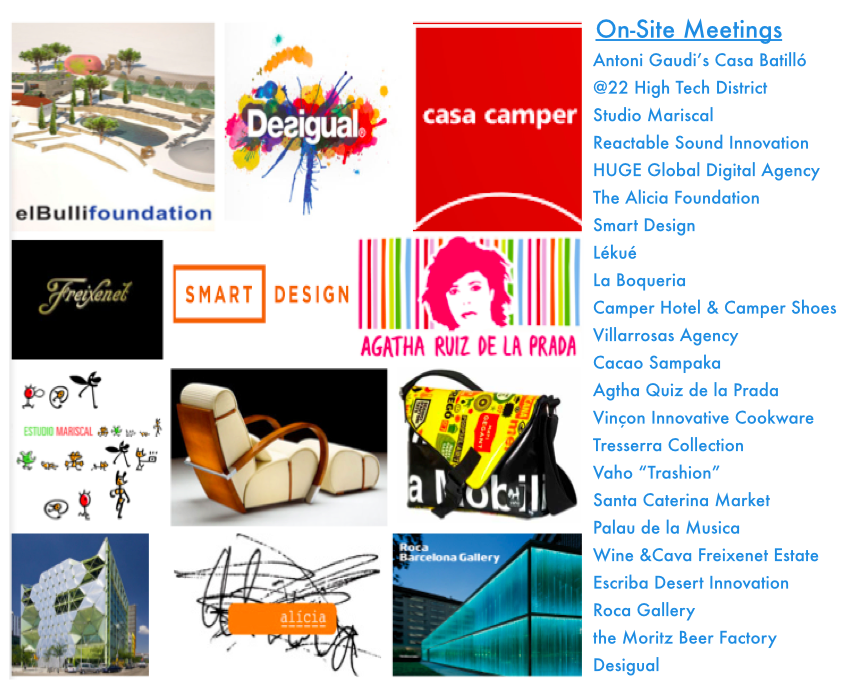 WHAT'S INCLUDED?
Sunday group welcome dinner
Meetings w/ innovators at their workplaces
Debriefs with attendees to apply learning to their firms
Lunch & snacks at innovative restaurants
All transportations between venues
Innovation journal & tote bag
Copies of the e-book Catalyzing Innovation
IMMERSIVE INNOVATION PROGRAM
Barcelona has long been a hotbed of creativity and independent thinking: home of groundbreaking artists Picasso, Miro and Dali, and the brilliantly original, architect Antoni Gaudi.  In cuisine, Ferran Adria is considered the most innovative chef in the world in history.  In fashion, Desigual, Custo, and Camper are innovators in color, asymmetry, and style.  Buildings such as the gold, fish-shaped Arts Hotel, Jean Nouvel's Torre Agbar, the colored tile roof of Santa Catarina Market, and the Palace of Music, all have made Barcelona a world-class center of architectural innovation.  Barcelona shouts with innovative, original, independent design thinking in all creative fields and so it was selected as the perfect city for an Inventours™ innovation inspiration program.
5 full/8-hour plus days of carefully curated, exclusive meetings with Barcelona's leading innovators in Product Design, Technology, Cuisine, Fragrances, Fashion, Sustainability, Architecture, Hospitality, and Retailing. These interactive meetings with highly successful and diverse thought-leaders are held at their workplaces, studios, boutiques, and labs, so attendees learn how physical and mental environments impact creativity.
For the full agenda click here.
For more information, visit our website: www.inventours.com 
or e-mail info@inventours.com